Winter season is approaching and is around the corner. It is important to keep the house and the whole family warm during this cold season. Therefore, it is important to fire up the fireplace and keep it burning for the whole time till the warm morning.
However, you might think of stocking wood for this winter usage as well. Keeping the whole stacks of wood in the house might take a large space. It makes your house disorganized and untidy. Another choice is to keep outside the house; however, the woods are being either frozen or too wet to use. So here we would like to recommend one product to solve all these problems as well as to keep your family warm and happy during the winter season.
With an outdoor firewood rack, it helps users to store up the wood for winter uses. It helps to keep firewoods organized and keep air circulation available for each piece of firewood. With efficient storage, firewoods are well dried and help the efficiency of fire burning.
The paragraphs below will guide you through the best firewood racks, their key features, and buying guides.
Our Top Picks
10 Best Portable Outdoor Firewood Rack
10. Sunnydaze Outdoor Firewood Rack
Sunnydaze brand is best known for manufacturing high-quality home and garden products. They offer customers the most innovative and beautiful products for home living spaces. For this firewood rack, Sunnydaze offers a high-quality firewood rack that helps users to protect and organize their firewood. The firewood rack is constructed with a heavy-duty black steel outdoor.
Its durable rack construction is made from 30mm diameter x 1mm thick tubular steel. It is also coated with a black powder-coated finish for long-lasting life. Therefore, with this heavy-duty construction and design, users can organize their firewood rack with this brand for longer periods of time.
Moreover, this firewood rack also comes with a protective cover. This protective cover is made of durable polyester material. This cover is added with a toggle cord, hook, and loop fasteners for easy access. Overall, this firewood rack helps users to conveniently store their firewood.
What We Like
Convey storage
Sturdy construction
High-quality protective cover
Durable material
9. Woodhaven Outdoor Firewood Rack
The woodhaven firewood rack is built to provide a lifetime of service. From the precision design and construction. The Woodhaven is the best firewood rack you will ever need to buy. It is designed with a durable 16 gauge steel to ensure a durable design and structure. This rack is also added with a welded frame to ensure that this rack will not jostle back and forth.
Additionally, the construction process is very detailed and precise. The rack is added with precision drilled holes that can ensure a sturdy structure.
Another special point of this rack is that it comes with a uniquely designed cover. It helps to cover the top row of the wood to be completely dried and ready to burn. With this unique cover, it also allows for air to flow through the firewood. Therefore it reduces mold and mildew and promotes curing. Last but not least, with this custom-made cover, it protects woods from rain and snow.
What We Like
Sturdy construction
High-quality materials
Uniquely designed cover
Precise construction process
8. Kingso Outdoor Firewood Rack
If you are looking for a heavy-duty outdoor firewood rack, then this Kingso is your best choice. The firewood rack is made of 1.5mm thick steel tubular with a double black powder-coated finish. It is sturdy, durable, and rust and weather resistant. It is an ideal firewood storage rack in any hot, cold, warm, wet, or dry climates. Moreover, this firewood can hold high capacity storage.
This firewood rack can be placed for many different spaces of the house. It fits on an outdoor porch, back yard deck, outside fire pits, or on any hard surfaces.
Moreover, the firewood rack is designed to give users the best place to store firewood. This firewood rack stacks the woods 6.7 inches off the ground. As a result, it will allow for better airflow and maintain a sufficient distance from the ground. This height distance will help to dry firewood for efficient fire burning. Last but not least, for the assembly process, users won't spend so much time and effort. This outdoor firewood rack comes with all hardware. Users just simply attack the nine parts with the accessories in minutes.
What We Like
Heavy-duty tubular steel frame
High capacity storage
Easy to assemble
Stack firewood above the ground
7. Amagabeli Outdoor Firewood rack
This is another heavy-duty outdoor firewood rack that can support and organize large stacks of firewood. It is made of heavy tubular steel construction and coated with a black powder-coated finish. It is a wood holder that is rust-resistant and has optimal durability for wood log support.
Since it is well constructed with heavy-duty materials, it is a sturdy and durable firewood rack. It keeps firewood stable and safe in every season, especially in the winter season. It can hold a fair amount of firewood in the outdoor spaces such as backyard fire pit, wood-burning, stove logs, and outdoor camping as well.
With this outdoor firewood rack, it helps users to organize their firewoods well. The open-air design keeps the wood logs off the ground. It keeps the firewood neatly stacked and helps to season and dry firewood for more efficiency and ready to burn. Last but not least, with proper instruction and a few parts and screws, users can easily assemble the rack in minutes.
What We Like
Sturdy and durable
Easy to assemble
Rust resistance
Heavy-duty design
6. Amagabeli Outdoor Firewood Rack Cover Combo Set
This Amagabeli firewood rack includes a perfect combo set for customers' satisfaction. The cover is a perfect fit on the 8 feet wood rack. These special rack covers stand out for being a little wider. It can accommodate pieces of wood that have an irregular size. It also helps to keep firewoods organized away from dampness during the wet season. Moreover, with this special cover combo set, this firewood rack fits on outdoor places such as the backyard or back porch.
This cover is made of heavy-duty 600D Oxford fabric with waterproof PVC backing. Therefore, it provides overall weather protection from the rain, snow, UV, wind, and other harmful factors.
In addition, this firewood rack is well crafted and constructed. This rack is made of sturdy and thick steel construction. The construction offers optimal durability and wood log support. Last but not least, this fireplace wood rack comes in parts and easy detailed instruction. Users can easily put all the parts together without tools.
What We Like
Advanced crafted
Easy to assemble
Perfect combo set
Attached rack cover feature
5. Landman Firewood Rack With Cover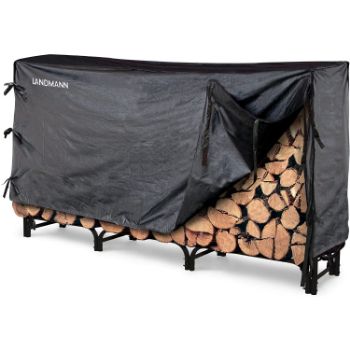 This Landman firewood rack includes four extra legs for stability and durability. The whole form of this firewood rack is also designed with functionality and durability in mind. The legs are constructed with heavy-duty steel. It is also coated with black powder-coat that is rust and weather resistant. Therefore, it makes this rack an ideal log storage system that well resists any hot, cold, warm, wet, or dry climates.
There are also three connected log rails for extra support. These connected log rails help users to neatly stack firewood safely off of the ground. By storing off the ground, it keeps firewoods away from insects and moisture. The design of assembling tools also allow users to freely adjust the space they want. If they need more storage, users can add another rack. If they want less storage, users can remove the rack. A section removal and installment take just a few minutes.
What We Like
Rust and water-resistant
Assemble and adjust with ease
Stable and durable
Cover included
4. Phi Villa Firewood Rack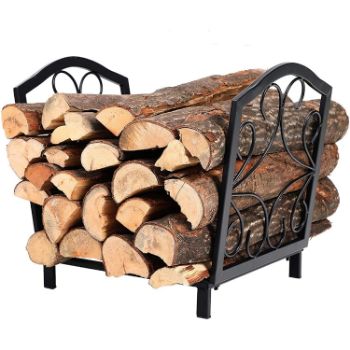 This Phi Villa Firewood rack is perfect for household uses and an excellent gift idea. It can be used at fireside or outdoor carrier use. This log rack keeps wood away from dampness and bugs, keeps firewood neat, safe, dry in the winter or rainy weather. It is an Ideal firewood rack for storing, drying, or heaping firewood. It fits on a porch, garden, deck, under eaves, patio, yard, and more.
The design with a unique flower pattern adds a more decorative and more appealing look. This log rack makes excellent gift ideas for those who like to enjoy a crackling fire. Last but not least, this PhI Villa firewood rack can ensure durability and high-grade quality that can hold up to 150 pounds of wood.
What We Like
Perfect for household use
Excellent gift idea
Appealing design
Sturdy and durable
3. Vivohome outdoor indoor firewood rack
If you are looking for a firewood rack that comes with a curve shape, then this Vivihome brand is your best choice. The bottom of the rack is a curve shape that can hold firewoods more efficiently. The wood will fall readily into a great stack shape. With this curved shape, it also keeps the firewood off the ground and facilitates easy stacking. This rack is constructed from sturdy steel tubing and a double black powder-coated finish. Therefore, this rack will conveniently organize the firewood for a lifetime.
Another special point of this rack is that there are two included removable kindling holders. These kindling holders can store small sticks, branches, or tools for more convenient use. These two kindles can help users to save more space and maximize log storage space. Finally, with included screws, spanner, and all parts, users can install this durable rack in just a few minutes.
What We Like
Removable kindling holders
Durable material
Bottom curved shape design
Sturdy structure
2. Goplus Outdoor Indoor Firewood Rack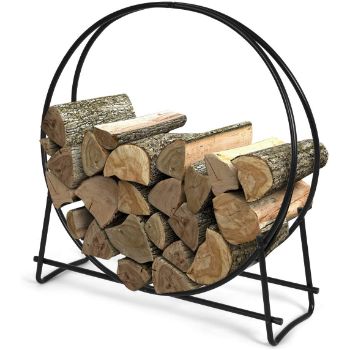 This Goplus firewood rack offers a unique design for users to enlighten their decoration both indoor and outdoor. The simple and modern style of this firewood rack matches well with all home decor. With a concise and well-made color coated, it can be put indoors by the fireplace or any outdoor occasion. This unique design also provides a larger storage capacity.
This log hoop is suitable for family use to store and dry firewood. It would meet wood burning needs both indoors by a fireplace or outdoors by a fire pit.
In addition, the design and overall structure are solid and sturdy. It is crafted of reinforced steel and premium metal connectors. This firewood rack is sturdy enough to withstand a great number of logs and could be used for long. Last but not least, there are only 4 steps for users to assemble the rack and put it in use.
What We Like
Unique design
Easy assemble
Spacious storage capacity
Premium materials
1. Patio Watcher Firewood Rack
This Patio Watcher firewood rack is designed to be stylish, functional, and fine craftsmanship. This firewood rack is an ideal wood holder for both indoor and outdoor spaces. It can effectively keep firewoods neat and organized. This rack is stable and safe that will protect firewoods from rot, dampness and it looks great too. For the indoor space, this elegant firewood rack makes the decoration and scene in the house even cozier. This rack also fits the back yard, pit fire, and many more outdoor spaces. Users can enjoy a cozy evening by chatting by the fireplace or BBQ in the yard with family and friends.
This firewood rack comes with 4 toolsets including tong, poker, broom, and shovel for users' convenience. The design of this firewood rack is functional and sturdy. The design of the steel shelf also leaves a space for kindling, fire starter, additional firewood, books, magazines, or newspaper. Last but not least, the assembling process is easy and not time-consuming.
What We Like
Stylish design
Additional tools included
Functional and useful
Easy to assemble
Outdoor Firewood Rack Buying guides
There are many firewood racks on the market, users might have no idea of choosing the best one. Most of the firewood racks have the same style, structure, and even the same color. However, the quality itself might vary from one to one. Therefore, we here add some buying guides and criteria for users to look at and follow.
Sturdy structure
This is the most important criteria for users to look for when deciding to purchase a firewood rack. The firewood rack should be sturdy and stable enough to hold a large amount of wood.
Easy to assemble
This is another important thing for users to look for. Firewood rack should come with easy instruction and all necessary tools. With easy instruction, users can save their time and effort on assembling a firewood rack.
Stylish design
The firewood rack should have a stylish and appealing design. So that users can put the rack both indoor and outdoor.
High-quality materials
The firewood rack should be made of high-quality premium steel. With high-quality steel, users can have a durable firewood rack.
Spacious capacity
The firewood rack should come with large storage. So that it allows users to have more large space to hold their firewoods.
CONCLUSION
So winter season is around the corner, if you haven't had a proper firewood rack to store all the firewoods, we believe that with these descriptions, you can find the suitable one to warm up the whole family.
With a firewood rack, users can store more wood for efficient burning in the cold season.
With a proper firewood rack, it helps to dry wood well for efficient burning. Last but not least, with a good stylish look of firewood rack, users can benefit from this design. They can put both indoor and outdoor space.