Have you ever used hand air pumps? If so, then you know how they're tedious and even storing them is a problem. Now here are the best portable air compressors for the car that have an innovative design. You don't have to worry about storing them anymore even inflating your tires during cold weather.
These models have onboard storage to keep the accessories handy when you need them. Get your best portable air compressors and inflate that inflatable stuff in just seconds.
List of The Best Portable Air Compressors Reviews:
10. ONTEL Air Hawk Pro Automatic Cordless
This is a cordless tire inflator that is easy to use. You can use it to quickly and easily inflate your bike tires, car tires, inflatable toys, and sports equipment in just seconds. It has a digital LED pressure gauge that will read the pressure and then automatically shut off when the desired tire pressure is attained. It operates on a rechargeable battery and comes with a 12V cable adaptor and 11-inch long car adapter.
9. PORTER-CABLE C2002
You need air compressor for your car which is highly portable and easy to use. This one will let you to inflate your car's tire in seconds. It has an induction motor to give long life and exceptional performance. Also, it offers a mess-free operation making it great for everyday use.
It has low amp 120V motor which starts effortlessly even when you use it in cold weather. This 13 piece accessory kit will give you a lot of varieties of inflation and also cleaning tasks.
8. Bostitch BTFP02012 6 Gallon 150 PSI
This oil-free compressor is highly portable and lightweight. It has maintenance-free pump that will make your work effortless and it has maximum tank storage of 150 PSI. It has high efficiency motor that starts easily even in cold weather.
Its high flow regulator and couplers will maximize air tool performance. The tank size is six gallon and it has two universal couplers that can support two users.
7. Kensun AC/DC Rapid Performance Portable Air Compressor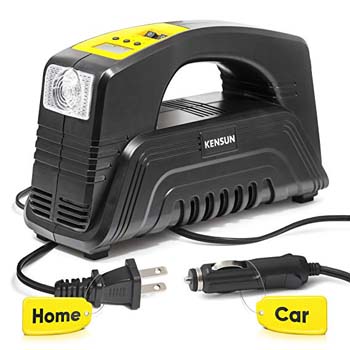 This air compressor will maintain your car's tire hence you won't lose gas mileage. You'll this model since it is reliable and portable. It has advanced functionality and you can use its LCD screen to monitor an also adjust the settings.
The auto-shut off function will save you time since you don't have to worry about over-inflation. Its reliable carrying bag that has a handle will let you to move your air compressor anywhere you wish.
6. Air Compressor w/10 Piece Accessory Kit
This air compressor has three-gallon horizontal tank to give you enough power to tackle DIY projects. It uses 120V house outlet. The ten-piece accessory kit includes a coiled hose, inflation needles, and fittings, and blow gun. The compact design makes this model easy to carry.
It is suitable for ball and tire inflation. You can also use it for powering air brushes, upholstery projects, air and brad nailers, and much more.
5. DEWALT DWFP55126 6-Gallon 165 PSI
The high efficiency motor of this model will let you to inflate your car's tire regardless of the weather. It gives 165 PSI and the gallon tank is 6.0. This product has high flow regulator and couplers that maximize air tool performance.
It comes with a protective rubber leg covers to let you worry less about marring. The convenient cord wrap is ideal for effortless storage.
4. PORTER-CABLE C2002-WK Oil-Free
The pancake style tank of this model gives optimal stability. The model is highly portable and has higher pressure design to give longer air tool performance. It has oil-free pump that requires zero maintenance.
The low AMP 120V motor starts easily even in cold weather or when you use extension cord. It is designed for effortless storage and portability and has cord wrap with six gallon capacity.
3. California Air Tools CAT-1P1060S
This tool is light and quiet and has oil-free single piston pump that gives great performance up to 3,000 hours and more. You can use this product in cold weather and uneven terrains.
This sturdy model is great for garage and for cleaning and inflating beds, tires, sports balls and toys. If you're working in a place where noise is a major issue, then this model is suitable for you.
2. Ryobi P731 One+ 18v Dual Function Power Inflator/Deflator
You can now quickly and easily inflate your car tires in second with this air compressor. This tool offers two different hoses and has a convenient switch that you can use it to switch from low and high-pressure settings and enjoy effortless inflation.
This model will enable you to fill your soccer balls, footballs or volleyballs using the added sports ball needle. With this product, you'll never waste your breath.
1. Makita MAC2400 Big Bore 2.5 HP Air Compressor
The cast iron pump features big bore cylinder and piston to give faster recovery time hence improved performance. The pump is oil-lubricated making it ideal for cooler running temperatures and reduces wear.
It features built-in thermal overload which is great for additional motor protection. The roll-cage construction makes this product withstand extreme job site environments.
Conclusion
Don't rely on hand air pumps since they're tedious and when you fill small inflatables will make you break a sweat. Get one of the above best portable air compressors for car and you'll save a lot. These air compressors are versatile and you can use them to inflate your car tires, kiddie pool, air mattress and more. Get one today!