A backpack no longer just belongs to the classroom. With a variety of functions, styles, and levels of comfort, a large durable backpack is especially useful for everyday life. It can serve as a great companion for storage for your work and classroom as well as during your camping trip or just a part of your stylish appearance, especially for women.
For ladies, in particular, it is not going to be just one pick, but many picks. However, with thousands of options out there in the market, to save up your picking time, the following is the list of the ten large backpacks for women lined up ready for your convenience.
---
Our Top Picks:
---
10 BEST LARGE BACKPACKS FOR WOMEN
10. SHRRADOO Travel Laptop Backpack Fits 15.6 Inch Laptop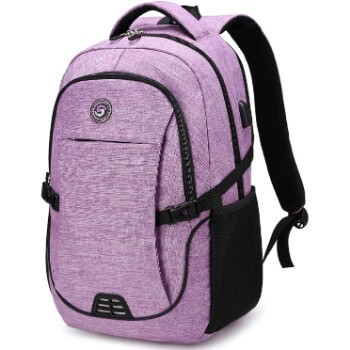 One of the top-rated large backpacks for women is the one from SHRRADOO. This high-quality backpack is made from Nylon materials with large storage space and multiple layer pockets. One separate laptop compartment can hold a 15.6-inch laptop. The front compartment comes with many pockets, pen pockets, and a key fob hook making your items organized and easier to find. A small anti-theft pocket located on the lower back keeps your essential and valuable items safe and handy.
Additionally, the built-in USB port offers users a more convenient way to charge the phone while walking. This backpack is also very comfortable with the adjustable shoulder straps and the breathable sponge mesh design, relieves the stress of your shoulder. A comfortable airflow foam-pad back design with soft, multi-panel breathable mesh padding with good heat dissipation and not get clammy, offering your back maximum back support.
Key Features:
External USB port design
Lots of storage space and pockets
Functional and safe design
3D airflow back
9. Venture Pal 40L Lightweight Backpack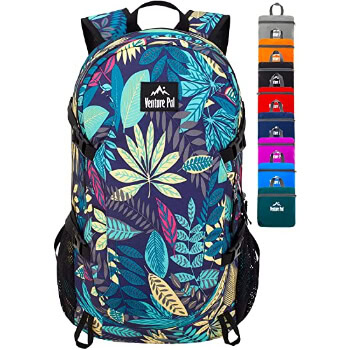 Looking for a stylish, lightweight, and high-quality travel hiking backpack that can also keep your wet and dry clothes separate? If so, you should check this Venture Pal 40L hiking backpack. This backpack is designed for easy and convenient use. One waterproof wet pocket is added to the main compartment with a zipper on the back of this backpack which led to the internal wet pocket so that separating sweaty clothes, towels, or other personal things from the dry one is much easier.
This backpack is made of high-quality tear and water-resistant nylon fabric, heavy-duty two-way metal zippers, and a multi-compartment design that includes one main zipped compartment, one zipped front pocket, and two side pockets. Moreover, it weighs only 0.7 pounds and can easily fold into its pocket or unfold when you need it. Breathable mesh shoulder straps with plentiful sponge padding help relieve the stress from your shoulder.
Key feature:
Wet pocket design
Multi compartments
Heavy-duty two-way metal zipper
Plentiful sponge padding shoulder straps
8. High Sierra Backpack
This High Sierra backpack is made of durable, high-quality polyester material with a design for comfort consideration and multiple pockets and compartments. It has a primary padded back panel for breathability, and the S-shaped mesh padded shoulder straps with the Suspension System that provides relief when carrying heavier loads. It does so by dampening the shock of weight transfer while transporting your gear.
What is more, this backpack features generous main compartments and multiple pockets allow you to keep all of your gear secure and organized. There are four interior slip and six exterior pockets. The pen pockets and key fob hook perfect for smaller items are also included. In addition to the two sides pocket for the water bottle, the monster hook clip can also be used to easily attach gear like a lantern or water bottle.
Key feature:
Large multi-compartment design
Padded back panel and shoulder straps
S-shaped mesh padded with Suspension System shoulder straps
Side compartment for water bottle
Monster hook clip
7. SHRRADOO Extra Large 50L Travel Laptop Backpack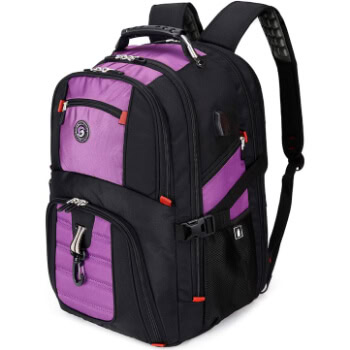 One of the key features that make this backpack standouts from the other is the design that allows for 90 to 180 degree unfoldable which makes it perfect for various uses for school or any camping, hiking, or outdoor trips. With up to 20 independent pockets for large storage and organization for small items, this SHRRADOO comes with 3 spacious main multi compartments with many hidden pockets that can accommodate much large and small stuff with the side deep zipper pocket and side elastic net pockets conveniently hold travel gear umbrellas or water bottles.
Moreover, this backpack is made from high-quality material with nylon lining for better water resistance. It also includes an anti-theft password lock, a hole for headphone outside for easy earphone usage, and an external USB port with a set-in charging cable offering convenient charging of your cell phone.
Key feature:
Anti-theft password lock
USB cable port and headphone hold
Multiple pockets and large capacity
90-180 degree unfoldable design
6. Michael Kors Backpack
If you are not looking for a travel backpack but a stylish one with considerable storage and durability, you can check this backpack from Michael Kors. This backpack is crafted using nylon with leather accents offering a stylish look. It also offers four exterior pockets which are the main compartment, the front zip pocket, and two side zip pockets. The size of the backpack is measured at 14″ (W) X 12″ (H) X 5.5″ (D) which is suitable for daily use.
Also, this backpack features an adjustable shoulder so that users can adjust based on the needs and height. A stylish top flap design covers the main compartment for additional security. The main compartment uses the drawstring closure and magnetic strap fastening.
Key feature:
Nylon with leather material
Drawstring closure and magnetic strap fastening
Multiple pockets
Adjustable straps
5. Dinictis 40L Backpack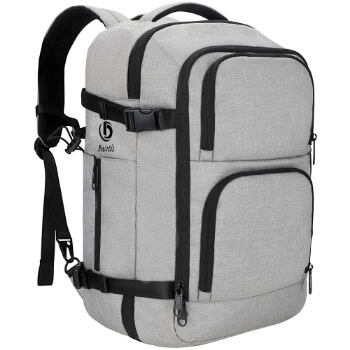 The next top-rated large backpack is from Dinictis. The unique feature of this backpack is the hidden shoulder strap function that can turn the normal backpack into a suitcase-like backpack. The main handle and side handles are designed to lift the backpack from multiple angles while the luggage trolley straps provide easy travel use. It also offers ample space with the size of the 50*35*25 CM which also meets the maximum size allowed by IATA flights.
Moreover, this backpack is made of high-density scratch resistant and water repellent polyester fabric ensuring durability. It is designed with a separate laptop compartment with a protective foam pad that can store up to a 15.6-inch laptop. The versatile front pocket includes small-item storage pockets. The handles and shoulder straps are padded with a thickened sponge to provide maximum comfort. The chest strap relieves shoulder pressure for weight-bearing.
Key Features:
Waterproof fabric
Main and side handles
Hidden shoulder straps function
Versatile front pocket
Thickened sponge handles and should straps
4. CAMTOP Backpack Women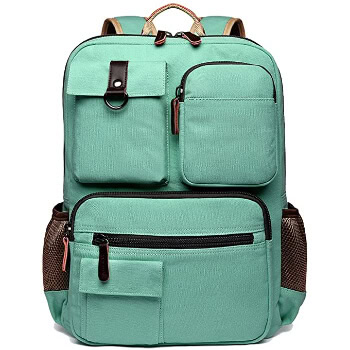 Another high-quality backpack to look at is from CAMTOP. This CAMTOP women's backpack is made of sturdy and durable washing canvas and cotton lining. It is perfect for school, travel, hiking, and various occasion with the size of 13 (L) x 17.3 (H) x 4.7 (W) inch. This backpack is designed to have multiple pockets and compartments including a main compartment with a laptop sleeve, two multi-function pockets. three front zipper pockets, two front magnetic buckle pockets, two side pouches for umbrella or water, and additional inside pockets.
Moreover, this backpack features comfortable adjustable padded shoulder straps so that it can be adjusted to a comfortable position. The bottom is well padded to endure more weight while the leather zipper secures the stuff inside the backpack.
Key Features:
Durable washing canvas and cotton lining
Adjustable and padded shoulder straps
Separate and padded laptop pocket
Multiple and roomy pockets and compartment
3. Volher Laptop Backpack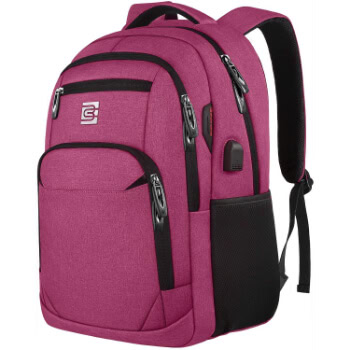 This Volher backpack is made of water-resistant and durable polyester fabric with metal zippers which can ensure secure and long-lasting usage. This backpack is very functional with the luggage strap allowing the backpack to fit on the luggage securely. It also comes with a built-in USB port and headphone port so that you can be more convenient to charge your phone or listen to music while walking. The storage is spacious with a separate laptop compartment and many pockets.
Furthermore, it also offers safety consideration with a hidden anti-theft pocket on the back to keep and protect your valuable items from thieves. making your journey and traveling more secure. Moreover, the comfortable airflow back design with thick but soft multi-panel ventilated padding gives users maximum back support. Breathable and adjustable shoulder straps also relieve the stress of the shoulder while the foam-padded top handle for a long time carries on.
Key Features:
Water-resistant material
Reflective effect
Headphones port
Adjustable straps
USB port
2. The North Face Women's Jester Backpack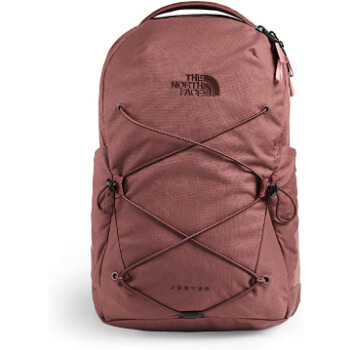 The North Face women's backpack features a 15″ laptop sleeve, women-specific shoulder straps, and a feature-rich layout. With separate padded laptop space, the large main compartment is useful for holding books and binders while a front elastic bungee system provides external storage. For school, commuting, or travel, this backpack has a top handle for easy grabbing and a sternum strap with a whistle for extra support and safety.
The back and shoulders straps use the FlexVent suspension system that features a flexible yoke built from custom injection-molded and flexible shoulder straps, a padded mesh back panel, and a breathable lumbar panel for comfortable and ventilated support. This backpack is measured at 19.25″ x 12.5″ x 9″ and is made of 600D Polyester Emboss, 600D Polyester Print, or 300D Heather Polyester fabric depending on colorway.
Key Features:
FlexVent suspension system
Separate and padded laptop sleeve
Only two but large compartments
Internal mesh pockets useful for small item
1. Modoker Vintage Laptop Backpack
Finally, the last premium quality large backpack for today's review is from Modoker. This Modoker's backpack is made of durable 600D Nylon fabric and Polyester lining. The backpack is also lightweight, scratch-resistant, anti-tear, and anti-water splashing. There is a total of 6 compartments for storage of your belongings well with the laptop sleeve, main compartment, secondary compartments, and other pockets. All the compartments are zipper closure with side pockets for tumblers or umbrella.
Additionally, this backpack includes the external USB charging port and set-in charging cable so that the user can still use their phone while charging and walking. In terms of the backpack strap, it is well-padded with a honeycomb cushion that is great for breathability. The strap is also adjustable so that you can adjust to fit your body.
Key Features:
Durable 600D Nylon fabric
USB charging port
Adjustable shoulder strap
Honeycomb cushion shoulder strap
Large Backpack for Women Buying Guide
It is always a hard decision to choose just one backpack among thousands of products available on the market. Therefore, to help you with choosing the right backpack for you or your loved one, these are the things you should consider:
Size and Capacity
The size of the backpack should be proportional to your body size and aligned with your purpose. Depending on your need and preference, choosing the perfect size for your need is important. If you are looking for a backpack for your one-night camping trip, you might be looking for a backpack in a size that is spacious enough to fit your essentials and clothes. In this case, it might not be a good idea to go for a too-small one.
Durability
This should certainly be one of the considerations. One of the ways to examine is looking at the material or fabric of the backpack and also the lining. You will expect to fit a lot of things in your backpack and carry it for a long period.
Comfort
Another key thing to consider is the comfort level when carrying the backpack. As mentioned above, you are expected to put many things in the backpack. Therefore, you should also consider the load-bearing of your shoulders. A tip for this is to look for the backpack with thickened padded shoulder straps. Additionally, the adjustable shoulder straps should also be the pick since it will help the backpack to fit you better.
Protection
You might also want to consider this when choosing the best backpack. To protect things in your backpack, you might consider these two features which are waterproof resistance and the level of padding. Though it is based on your usage, it is always better to choose the one with water-resistant material and thick padding.
Number of pockets
Some backpack has multiple organized pockets for different size of things to fit in such as the laptop sleeve, the internal pocket for pens and stationary, the mesh side pockets for bottle and so on while other are bare on the inside with one big compartment. This will depend on your need and your habit.
Conclusion
To conclude, having a nice, durable, and functional backpack is very useful in daily life for storage to style and from the classroom to the wild. There are numerous options out there in the market, but we have lined up the ten best large backpacks for women for you.
We hope you have found the one that is just right for you and your loved one. Additionally, it is also useful and recommended to be aware of some tips on things to consider when choosing one as presented above.