Recent innovations in digital keyboard technology have made the portable keyboard piano a viable alternative to acoustic pianos for those who have limited space or simply want to be able to easily transport their instrument. Not only do many models sound and feel just like acoustic pianos, but they are also generally less expensive and easier to store than traditional uprights.
There are many different kinds of portable digital keyboards available, and they vary widely in the quality of sound they produce, the features they offer, and of course, the cost. To help you choose the right keyboard for your needs, we've compiled this list of the top portable digital pianos on the market. Keep reading to learn which keyboards made the cut.
---
List of The Best Portable Keyboard Piano Reviews:
10. Yamaha NP32 76-Key Lightweight Portable Keyboard

The Yamaha NP32 packs powerful features into a sleek, streamlined, and minimal package. Available in black or white, the keyboard boasts 76 full-sized keys, two 6W speakers, and 64-note polyphony. Those allow you to play complex compositions without losing notes.
The keys are softly graded to offer dynamics that are similar to those of an acoustic piano. And with a weight of just 12 pounds, the NP32 is light enough to transport just about anywhere.
9. Casio LK-265 61-Key Lighted Portable Touch Sensitive Keyboard with Power Supply
The 61-key Casio LK-265 features a lighted keyboard that makes learning easier and playing music more fun for musicians of all ages. Simply connect the keyboard to the free Chordana Play app, download your favorite MIDI file, and the LK-265 will start light up the keys to show you how to play the song.
The LK-265 also has a Dance Music Mode, which allows you to compose dance music complete with filter, flanger, gate, lo-fi and roll effects.
8. Alesis Coda Pro Digital Piano with Hammer-Action Keys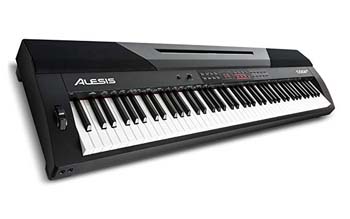 Those looking for the most realistic sound possible from their portable digital piano will want to check out the Alesis Coda Pro. This full-featured portable keyboard features 88 weighted hammer-action keys that provide the same rich sound as an acoustic upright. It also has 20 built-in piano voices, including electric piano, grand piano, and drawbar organ.
Players can select from 50 piano accompaniments – including Jazz Pub, Slow Rock, and Vienna Waltz) to add texture to any solo performance. The Coda Pro connects to computers via USB, making this a great keyboard for serious enthusiasts, students, and professional musicians alike.
7. Casio 61-Key Concertina CTK-2400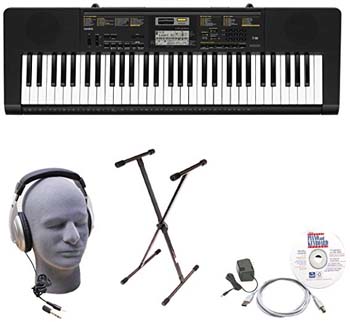 With an award-winning onboard educational system that includes 50 lessons on hand position, time signatures, and reading notes, the Casio CTK-2400 EPA is the ideal portable digital piano for beginners. If comes bundled with closed-cup headphones, a stand, and a power supply.
The keyboard has a built-in microphone, 400 AHL keyboard voices, and a voice percussion function that allows samples to be easily integrated into compositions. The CTK-2400 EPA's educational software pack was developed by Irma Irene Justicia, M.A., who has taught at the Juilliard school of music.
6. Yamaha EZ-220 61-Lighted Key Portable Keyboard Package with Headphones, Stand and Power Supply
The Yamaha EZ-220 has 392 built-in sounds and effects, including bass, guitar, drums, and synthesizers. It also has 61 lighted keys that make playing in dim lighting conditions easier. The included headphones stand, and power supply ensures you have everything you need to start making music right out of the box.
The EZ-200 has an onboard learning system with over 100 pre-programmed songs, making this keyboard an excellent choice for beginners.
5. Yamaha YPG-235 76-Key Portable Grand Piano
With its approximately 500 voices, 160 preset styles, and 30 pre-programmed songs, the Yamaha YPG-235 is the ideal portable keyboard for those who want to create complex performances. This isn't to say that the YPG-235 is only for professionals, however. This 76-key piano features the Yamaha Education System, which provides special tools for making the learning process easier.
The YPG-235 weighs a solid 26 pounds, making this keyboard an excellent alternative to upright acoustic piano for apartment dwellers and those who have limited space.
4. Casio CTK2400 PPK 61-Key Premium Portable Keyboard Package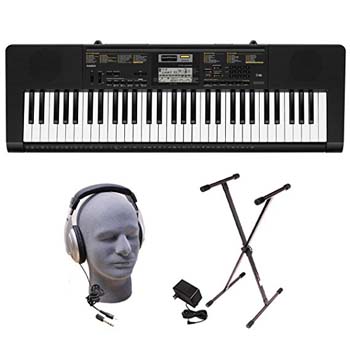 This 61-key portable piano is easy to install and even easier to transport. It comes equipped with a pair of headphones, a stand, and a power supply. There are 180 rhythms programmed into the CTK2400 PPK, along with with 152 songs and a "hall" effect.
The piano also features a recording function so you can playback your own compositions. The keyboard comes bundled with a pair of headphones so you can practice your piano playing skills without disturbing the rest of the family.
3. Casio CTK2400 61- Key Portable Keyboard with USB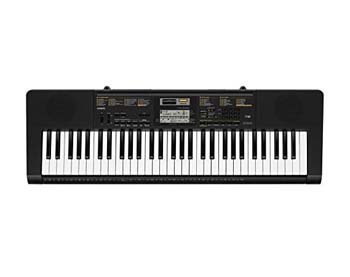 The Casio CTK2400 weighs in at just 11.5 pounds, making this keyboard ideal for those looking for the ultimate in portability. The 61-key CTK2400 features a built-in microphone, 400 AHL keyboard voices, and an easy-to-use sampling effects. It is a great portable piano for beginners, as it provides a progressive learning system that helps novice players practice their skills.
2. Yamaha PSR-EW300 76-Key Portable Keyboard with Power Supply
This portable digital grand features 76 Graded Soft Touch keys, 3with 574 voices, 165 styles, 154 preset songs, and the Yamaha Education Suite, which tracks your progress and grades your playing.
It outputs 12 watts of power, which is twice as much as comparable digital pianos and makes this keyboard ideal for novice and professional musicians alike. This portable keyboard piano has an intuitive interface and can be connected to a computer via USB.
1. Casio SA-46 -Key Portable Keyboard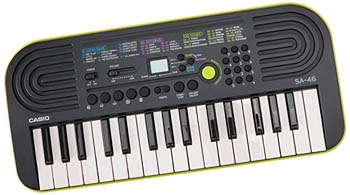 With its compact size, 32 miniature keys, and brightly-colored accents, you'd be forgiven for thinking the Casio SA-46 was a children's toy. While this portable digital piano is especially well-suited for children. It has several impressive features that qualify it as a "real" instrument.
In addition to 5 drum pads, 50 pre-programmed songs, and polyphonic sounds. Also, this keyboard piano comes with a pair of headphones. If you're looking for an instrument your child will love playing, the SA-46 may be the right choice for you.
Conclusion
When choosing a portable keyboard piano, it's important to consider not just the cost of the keyboard, but also its connectivity options, onboard learning tools, ease of operation, and key responsiveness. The above list of portable digital keyboards should get you thinking about which features you need. Those will help you purchase the right piano for your lifestyle.