Exercising is one way to lead a healthy lifestyle. Periodic exercising can keep you fit and help you avoid medical complications that are associated with a lack of exercise. Today's technology gives solutions to anything that you can think of. If you are a person that is scared to go to the gym or you find gym subscription fees to be too high then you can find a cheaper alternative right in the comfort of your home.
This article gives an insight into a portable pull up bar that will bring the gym experience closer home.
---
List of The Best Portable Pull Up Bars:
10. Physport Doorway Pull up Bar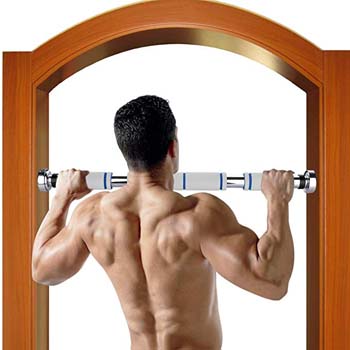 This is a key gym metal bar that is fundamental for building upper body strength. It has been designed to target the back muscles, arms muscles, and pectoral muscles when exercising. It fits most door frames and can extend from 24-39 inches in length.
Also, it has removable hand grips that will allow you to stretch your hands to any position that you want. The bar includes 3 sets of door frames for added protection.
9. ECOTRIC 50-inch Heavy Duty Wall Mounted Chin Pull up Bar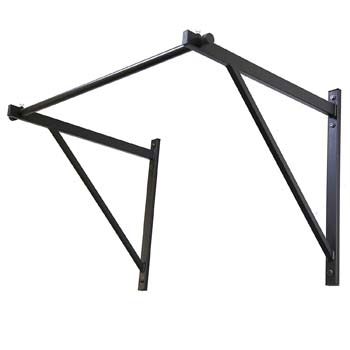 The bar has the ability to hold weight up to 500lbs. This structure is mounted vertically against a concrete wall at any width up to 53 inches. It comes with a supplied bar that is used for working out. The height can be adjusted depending on how tall the ceiling is or how tall you are.
All the required mounting hardware is included in the package. A complete package includes two L shaped brackets, one long bar and all the hardware needed for assembling and installing.
8. Titan Fitness Wall Mounted Pull Up Chin Up Bar Cross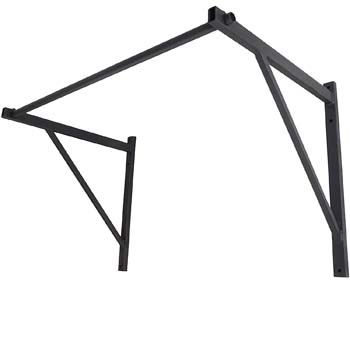 The mounted structure has can support a weight of up to 500 lbs. you can install it either vertically or horizontally. For wall mounting it can be mounted using 16-inch wood studs to achieve custom widths at 16, 32, or 52 inches.
The structure can be mounted on a concrete wall up to heights of 48 inches with the supplied bar. The height is adjusted based on the ceiling height or athlete's height.
7. Yes4All Deluxe Chin Up Bar Doorway
The new version comprises a single piece of solid steel. This ensures that it has more strength hence offer more stability and security. This attribute sets out from other flimsy pull up bars that cost more. It has 5 thick padded grip positions with soft foam to provide added comfort and prevent slip-ups.
It will fit doorways from 25-33 inches with a door thickness range from 4.75-6.25 inches. This structure is perfect for working out your back, triceps, biceps, chest arms abs and shoulder.
6. Stamina /X Boulder Fit Doorway Trainer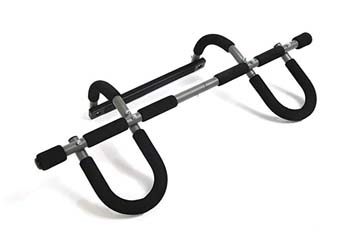 With multiple grip positions, it will allow you to tone upper body muscles. This professional and heavy-duty training tool support up to 250 pounds of weight. It comes with a thick padding and non-slip comfort grips.
Assembling it is simple and it attaches and removes easily from the door frame. This metallic structure has been designed to fit standard doorways. A sturdy door frame is recommended to avoid slipups.
5. Ultimate Body Press XL Doorway Pull Up Bar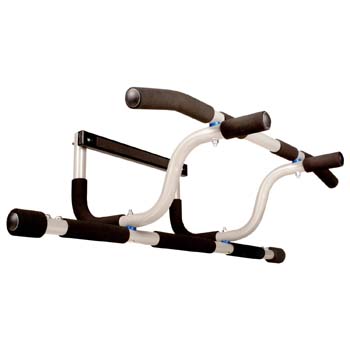 The Ultimate Body Press XL Doorway Pull up Bar will get you a full range of motion pull up workouts that will build muscles around your chest, arms, and back. It is an elevated bar with a premium construction that supports up to 300 pounds.
The bar ends are expandable to fit al doorways. The package comes with ABS couplers that will secure the frame to make it more rigid. This should be your ideal body press for everyday use.
4. Garren Fitness Maximiza Pull Up Bar
This is one pull up bar that will tone and strengthen your arms, shoulders and abs muscles. It is an effective tool in your quest to achieve the perfect workout. Its heavy-duty chrome and steel doorway pull up bar and door mounts are designed to provide great support and safety.
It can support up to 300 pounds when mounted correctly. You can use this door bar for many exercises including crunches, pull-ups, and chin-ups.
3. Ikonfitness Pull Up Bar
No screws are needed to assemble this bar. It comes ready to use once you get out. You simply hook it to your door frame and start to experience those amazing workouts that you've always wanted. It has a raised bar a feature that makes it suitable for tall people.
This bar has been designed for wide door frames. Its robust and high-quality construction provides maximum stability and can support a weight of up 440 pounds.
2. ProSource Multi-Grip Chin/Pull-Up Bar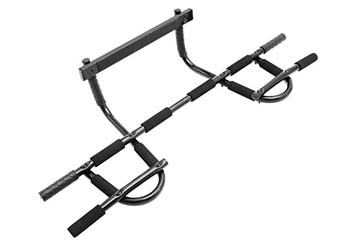 The ProSource Multi-grip bar provides you with 12 comfortable grips and its multiple handles allow you to perform wide hammer and close grip exercises. You can strengthen your upper body through sit-ups, chin-up leg raises.
It is easy to assemble and install and it fits standard doorways for quick installation. This is a durable bar thanks to the high-grade steel that has been used to construct it.
1. Iron Gym Total Upper Body Workout Bar.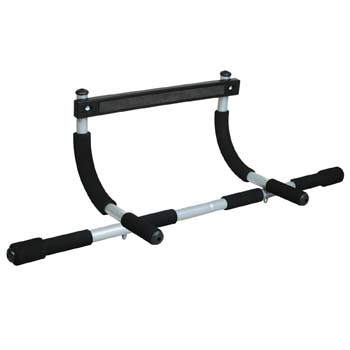 This is arguably the best pull-up bar that is on the market. It can be detachable into two smaller bars for easy storage. It is easily mounted onto door frames without the need to drill doors. The bar extends can extend in length to fit doorframes that are up to 40 inches wide.
If you are looking or the best torso strengthening kit that you can use at home, I recommend that you buy this one.
Conclusion
All portable pull up bars made from durable metallic frames hence you can be assured that they will last for a long. Before going to buy one, remember to measure how wide your door is. This will ensure that you get a pull bar that fits perfectly with the door.
Buying Guide: Best Portable Pull Up Bar
Weight-bearing Capacity
The anticipated weight of the user should rank top among your consideration. A good pull up bar has to be strong enough to bear your weight and that of any other user who might need it. This is to prevent a situation in which the bar falls apart and injures the user.
Adjustability
A typical pull-up exercise has to be carried out in several stages and dimensions. It is necessary hence for the bar you pick for the job to be adjustable. It is only then that you will be able to set the dimensions as per your unique needs and fitness expectations at any given time.
Grip
In the course of working out, your hands will generate lots of sweat. If and when this happens, there is naturally bound to be some slipperiness. To keep yourself on the safe side of events, you need to possess a pull bar that manages a tighter grip and strives extra hard to prevent the hands from slipping off.
Length of Bar
The length of the bar also matters a great deal. Your bar of choice has not only to be long enough to accommodate the dimensions of your body but also compact enough to fit within the limited space you may have at that time. As a plausible way forward, you may have to mark out your dimensions beforehand.
Frame
Of all the parts that a typical pull-up bar comprises, it is the frame that dominates. It hence goes that the frame has to be not only strong but also highly supportive of the weight and the configuration of each user. Be sure to emphasize the materials that are stronger and less inclined to the risks of damages.
Wrapping Up
There you have it! We are now confident that you have the insight you need to appreciate this wonderful piece of exercise equipment well. You should not just read and understand the insight. How possible is it that you will make the best of them going forward?
You need to make appropriate arrangements now to purchase one for yourself and have it devoted to your work. That is something you should do by skimming the many offerings that dealers in your area have. As always, we wish you the very best as you set out for the purchase of your suitable item!
Frequently Asked Questions
Can you get ripped with just a pull-up bar?
By its sheer length, strength, and structural makeup, it is possible for you to get ripped with the pull-up as well. This means you literally get to stroke several birds with the same stone by opting to use the pull-up bar as your primary fitness gadget.
Do pull up bars damage doors?
These bars are hung high above the surface of the floors. It is unlikely hence that they can pose some or any damages to your floors. Nonetheless, you have to see to it that you fix them properly on the ceilings. Any weaker work may usually lead to looseness that may occasion some fall-offs and damage to the floors.
Is wall mounted pull up bar safe?
YES, they are! They come with all the parts and accessories that are used to install the same in ways that are tighter and safer. To guarantee their maximum safety, you have to tighten them firmly and test the same thoroughly before finally dedicating the same for your use.
How much weight can a pull-up bar support?
Generally, expect your pull-up bar to accommodate around 300 pounds. You have to countercheck the weight rating of the pull-up bar of your interest beforehand to ensure that it fits your weights and that of your competitors as nearly as can be. Do not take this issue lightly as a weaker bar may injure you.
What is the easiest pull-up grip?
The parallel grip pull-up, it is! Also called the neutral grip, this one is mainly performed with the palms of your hands facing each other. Unlike the other two leading variations, this one does not exert too many strains on you while at the same assures a fairly great deal of safety on your part.
How many pull-ups should I do a day?
For more optimal workouts, you need to do around 25-50 pullups per day. Start small and repeat the exercises consistently for a more prolonged duration of time. It is only by maintaining this consistency that you will also be capable of managing more enduring outcomes.
Is it harder to do pull-ups if you weigh more?
The more you weigh the more muscle power you have to expend to stay suspended and tackle the rigorous workouts. If you are weighty, we may ask you to start small and only increase the intensity as your muscles get stronger along the way.