Do you own a boombox? Well if not, then you need to know that those "Golden Ages" of boomboxes are now coming back and there are interesting models on the market with great features. The portable boombox has been around since the early 80s. These devices used to be very massive and almost every home had it.
Even today people love to have a boombox in their homes but prefer it in a much compact design. Many companies make portable Boom Boxes but the most important thing is finding a quality product. Even though they may come in different sleek designs, it doesn't mean it makes a good product.
There are tons of portable boombox available, but getting the right boombox that can meet your needs is hard. Here is the collection of the best portable boomboxes that will fit your budget, portability and sound quality needs. If you were planning to buy one, then here is what you can try.
List of The Best Portable Boomboxes
10. Sony CFDS70-BLK CD/MP3 Cassette Boombox
If you need a simple radio which is designed to play tapes and CDs, then you've it. This one will fit your bill perfectly and it will even give you great sound. It is very easy to set up and it plays tapes, CDs, AM/FM radio stations and you can program your favorite stations easily. It is a great small appliance which is compact and it can be heard everywhere.
9. Sony ZSRS60BT CD Boombox
This Boombox can play CD, USB, CD-R/RW, and Mp3 playback. It will enable you to stream music wirelessly via Bluetooth and NFC. Its mega bass sound enhancement will impress you and the FM/AM radio station will keep you updated. It has 30 memory presets and an LCD display to let you use your Boombox even in dim areas.
8. Sony Bluetooth Boombox Bundle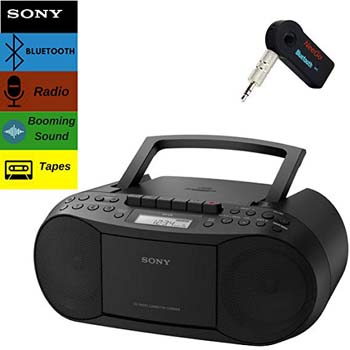 This is a classic stereo boombox that you don't need to ignore. It is battery operated and it can play CDs, MP3, cassette tapes and has FM/AM radio station. It features Bluetooth receiver and it is tiny yet powerful. You can stream music or take phone calls from your tablet or phone. It has a travel-friendly design and you can carry it anywhere you wish.
7. Jensen FM Stereo CD555 Bluetooth Boombox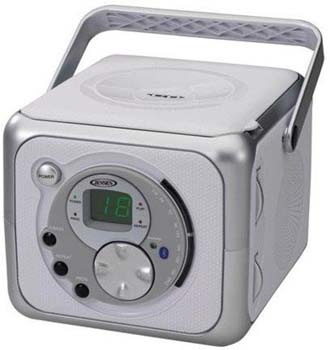 This model has the perfect size and ready to play your CDs. It will give you great sound and volume with a small size design which is ideal for the nightstand. Including Bluetooth capability and radio and it doesn't take a lot of space when storing. It gives a very clear sound and your entire family will love it. The setup is very intuitive and the reception is exceptional.
6. Sylvania SRCD261-C-WHITE Portable Boombox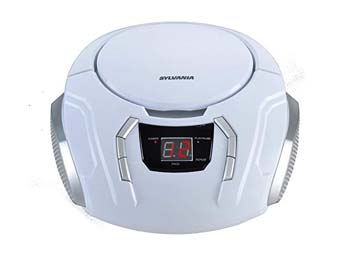 This is an amazing Boom Box which is made to surprise you. It has a bright LED display and a top-loading CD mechanism. It has amazing sound quality which is exceptional for its price. Also, it has aux input and AM/FM radio options. It gives full sound and highly portable. You can take this portable Boombox to the beach, pool, patio, and kitchen and anywhere you wish.
5. Sony CD Radio Cassette Recorder Portable Boombox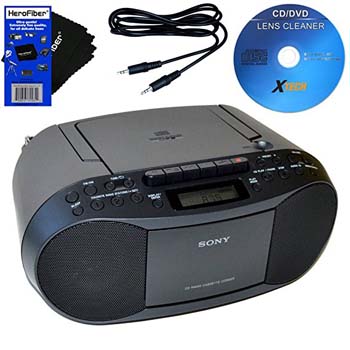 Get this model and it will give you great bass at an exceptional price. It will play anything you want from CDs to MP3. It has an audio jack to enable you to connect to your MP3 player. The built-in cassette tape deck and recording function makes this boombox practical. You can set the sleep timer and your unit will automatically switch off itself.
4. Sony GTKXB90 High Power Portable Bluetooth Speaker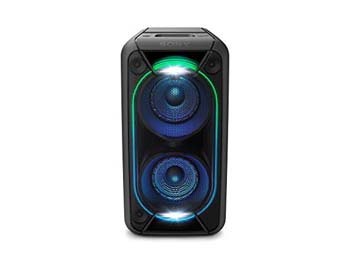 You will get extra bass from this compact boombox and it will enable you to light up your party with this unit. It has infinity mirrors to give you intense lighting effects. You will get an energized part atmosphere and make people dance a lot. This item will give you five hours of playback and this will let you have music anywhere you wish. Get this item with a built-in battery and take the party outside.
3. GPX, Inc. BCA206S Portable Boombox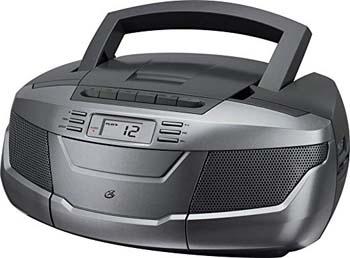 Grab this portable boombox which has CD and cassette player made to meet your needs. It will blend well with all of your cassette, CD and radio needs. You will love its minimalistic design that makes the model suitable for all ages to use and enjoy. It comes with a built-in stereo speaker and LCD display. You can program its tracks and it needs 6 C batteries which are not included.
2. Panasonic RX-D55GC-K Boombox
This is a 280W cassette recorder that comes with music and USB ports. It gives high-quality sound with its four two-way speakers. It is capable of playing MP3, CD-R/RW and has FM/AM radio and comes with a remote control. One good thing is that it comes with a US plug and European plug adapter. It has a great size and great choice for those who don't want bulky equipment.
1. Sony CFDS50 Portable Boombox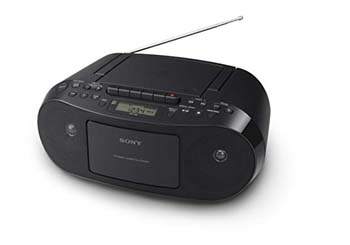 Enjoy listening to music from this powerful, convenient boombox. Runs on AC and battery power making it always ready to entertain you. It has a bass-reflex design to give you an enjoyable listening experience. It has a built-in FM/AM stereo tuner with 20 FM and 10 AM preset memory. An auxiliary audio input to enable users to connect digital music players via the speaker dock.
Guide To Buying A Portable Boombox:
Another thing about buying a boom box is knowing what exactly it is you are looking for. Some people still prefer the vintage look of the 80s and won't mind having something to remind them of the blast from the past. It is still possible to buy a boom box that was in the market years ago but even better to buy a newer model that comes in the same design but with added features.
Nowadays, you can find modern boomboxes with new features like CD players, radio and even a dock station for iPod. You can even options that allow you to use them close to water because they are water-resistant. You can use this type of boom box when you are out with friends at the beach or poolside.
With the portable Boom Box, you can carry your music along with any place. You can use it for picnics, pool parties, and even while sitting on your porch.
Here are some of the things you may want to look out for before buying a portable Boom Box:
Boombox Design
When you see a Boom Box, the first thing that grabs your attention is design. Young people love products that are attractive and have sleek designs. The Boom Box comes in different types of styles in the market so there is always something unique that you will find. One interesting this is the availability of this product in the market.
There are so many boom boxes and it would be hard for you not to find a design that you like. Most times you may even be confused because of the many products you will find and the fact that they all look good. Still, before you buy any product, you have to like the design and it should be something you will enjoy having to carry with you.
Boombox Size
There are boom boxes that come in very comfortable sizes but even though they may not be as small as MP3 players, you can still carry them around. Most people are not concerned about the size but are more interested in the quality of the sound it gives.
Boomboxes sound better than MP3 players and that is why most people prefer to buy them. If you are going to be carrying your boom box outside your home, you need to find a portable option.
They come in different sizes and most times it depends on the design of the box, the manufacturer and some of the other components of the device. If you don't like the size then don't buy it. Look for something that will fit your needs.
Power
Boomboxes are just like most electronic appliances. You will have options to use it with a direct AC charger if you are using it indoors of it can run on battery. If you are going to be running it on battery for most of the time, you will need to find a boom box that manages its battery life perfect.
You don't want to find yourself carrying packs of batteries around with you. Make sure you get a boom box that would not interrupt your music experience as a result of low power.
Sound Quality
One interesting feature of boomboxes is its speakers. Even if you get a boom box with a compact size, if it doesn't have a great sound, you won't like it. Before you go ahead to buy any product, make sure that it comes with high-quality sound even if it is not as portable as other options.
If you search properly, you will find a product that has both good sound quality and a portable size option for music lovers. However, if you are looking for a great sound, you may be purchasing a boom box that uses higher wattage compared to other portable music devices.
Radio Presets And Station Tuner
Most radio options come with two frequencies, AM and FM. You should make sure that the radio on the boom box allows you to tune between these two frequencies.
You should also have options to program your favorite channels to save you the time of always searching for stations when you turn the radio on. Some boomboxes also give you the option of recording a program so you can listen to it later.
CD Player
The CD player is also another feature you will find commonly in most boom box devices. Even though many music devices offer CD player support, boom boxes allow you to record some tracks on your CD-R/RW disks. This will allow you to listen to those favorite songs when the CD is not available.
Bluetooth Connectivity
These days manufacturers have included wireless technology to Boom Box devices. You can now play songs from your mobile devices to your boom box using Bluetooth technology. Before this could only be done with cables but now that method has been completely replaced with Bluetooth connectivity.
Satellite Support
Aside from listening to your local radio station programs with your boom boom device, they now have more advanced features. You can now listen to satellite radio with your boom box.
However, you may need to get additional equipment to connect to the satellite like an antenna or paid subscription. You will need to make sure that you have paid for your subscription to enjoy the satellite shows on your boom box device.
Conclusion
Portable boombox devices are a great addition to your music collection devices. They come in handy and can be a great companion for your outdoor hangouts with friends. You can also get a boom box for your children's room. It allows you to carry your music along with you even when you are on the move.
If you want to enjoy your boom box device, you need to look out for all the features mentioned in this article to have a great music experience.
If you're under budget and need the best boombox that will fit your bill, then the above-listed model is suitable for you. They have Bluetooth, a radio tuner and a CD player making them great for summer. Their audio quality is a great and great choice for the money.